Guy Bujold
Interim Chairperson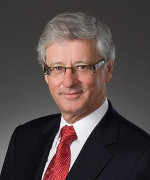 Guy Bujold is the Commission's Interim Chairperson.
Before his retirement from CANARIE Inc. in February of 2010 where he had been the President and CEO since October of 2008, Mr. Bujold held a number of senior positions in the federal public service, including those of President of the Canadian Space Agency; Assistant Deputy Minister responsible for Special Projects in the Deputy Minister's Office, Assistant Deputy Minister of the Science and Innovation Sector, and Assistant Deputy Minister of the Operations Sector at Industry Canada; Senior Assistant Deputy Minister, Policy and Communications at Infrastructure Canada; Deputy Commissioner of the Canadian Coast Guard; and Assistant Deputy Minister, Corporate Services for both the Department of Finance and the Treasury Board Secretariat.
During his more than 33-year career in the federal public service, Mr. Bujold also held the positions of Director of Health Policy; Executive Director, Policy Coordination; and Director General of Intergovernmental Affairs at Health Canada. Mr. Bujold also worked as a policy analyst and program manager at the Treasury Board Secretariat and the Department of Finance.
Since retiring, Mr. Bujold has provided advice in the areas of policy, program development and uptake, and communications to government, and to for- and not-for-profit organizations. He is a member of the Board of the Children's Hospital of Eastern Ontario Research Institute.
Mr. Bujold holds an undergraduate degree from Laurentian University, Sudbury, and a Masters degree in Economics from York University, Toronto.
Date modified: