RCMP Conducted Energy Weapon (CEW) use continues downward trend
Ottawa - 2012-09-19
The Commission for Public Complaints Against the RCMP (CPC) today released a special report entitled RCMP Use of the Conducted Energy Weapon: January 1, 2010 – December 31, 2010.
This report contributes to the CPC's ongoing effort to monitor RCMP use of the CEW. The report, which included an examination of 597 CEW usage reports, concluded that:
Overall CEW use (i.e. any threatened or actual deployment of the device) dropped 14.2% in 2010, continuing a downward trend observed since 2008.
Actual deployment of CEWs dropped 26.4% between 2009 and 2010, reflecting a growing tendency to use CEWs as a means of deterrence or de-escalation, without the device being deployed.
Force-Wide Trends in CEW Usage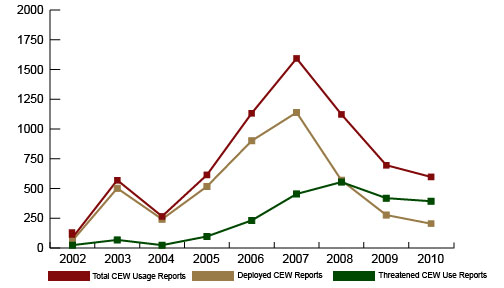 Text Version

Total CEW Usage Reports

2002: 86
2003: 570
2004: 266
2005: 614
2006: 1133
2007: 1593
2008: 1123
2009: 696
2010: 597

Deployed CEW Reports

2002: 62
2003: 502
2004: 242
2005: 517
2006: 901
2007: 1139
2008: 569
2009: 277
2010: 204

Threatened CEW Use Reports

2002: 24
2003: 68
2004: 24
2005: 97
2006: 232
2007: 454
2008: 554
2009: 419
2010: 393
The CPC continues to closely monitor CEW use on at-risk populations, including youth and those with mental health issues. This year's report noted that:
The number of incidents involving youth where CEW use was threatened was higher in 2010 than it has ever been, but actual CEW deployments on youth have remained low.
The use of CEWs in incidents where mental health is a factor has decreased, with 2010 figures reverting back to 2008 levels.
"I am encouraged by the RCMP's approach to ensuring more effective internal monitoring of the use of force by its members, and trust that these efforts will continue," said Mr. Ian McPhail, Interim Chair.
"It is my belief that the Commission's work on this report, with the full cooperation of the RCMP, has been a very useful exercise – both in terms of assisting the RCMP to better monitor the use of the CEW and amend policies and practices, as required, and in enhancing public confidence through effective civilian oversight."
The full report, including all the Commission's findings and recommendations, can be found on the Commission's website.
Follow the CPC on Twitter @CPC_CPP
For more information, please contact:
Tim Cogan
613-608-0193
Tim.cogan@cpc-cpp.gc.ca
Date modified: